Eidetic Memory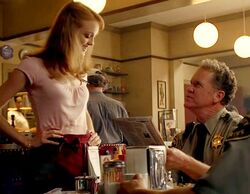 Effortlessly recalling the answer to a crossword
Ability to:
effortlessly remember facts and recall all memories
Eidetic memory, also called enhanced memory, is the ability to effortlessly remember every piece of information one is exposed to.
Characters
Charlie Andrews has this ability naturally.
Gabriel Gray has taken this ability in World 3 and World 8.
Abbie Gray has also mimicked this ability, like her twin.
Robert Max has also mimicked the ability.
Matt Neurenberg also possesses this ability.
Trevor Tanaka has this ability too.
Katherine Murry also has this ability.
Greig Dawson also has this ability.
Fabien Galvez possesses this ability naturally.
Daniel Galvez has mimicked this ability from his father.
Elly Nakamura will have this ability naturally, inherited from her paternal grandmother.
Misha Edmund has manifested this ability naturally.
Joshua Evans has gained the ability from Charlie in World 8.
Ianto Gray will manifest this ability in the future.
Limits
The ability lets the person able to remember everything they read, hear or see. This is done effortlessly and they can recall back on their memories. In Misha's case, she will also be able to recall any information she'd learned before manifestation. However, the ability may have been connected with a brain aneurysm which Charlie developed, and she lost control of the ability as this advanced, endlessly reciting facts without being aware of what she was doing or being able to stop. Matt also died when the Company attempted to download back a computer database they'd stored in his memory.
Similar Abilities
Ad blocker interference detected!
Wikia is a free-to-use site that makes money from advertising. We have a modified experience for viewers using ad blockers

Wikia is not accessible if you've made further modifications. Remove the custom ad blocker rule(s) and the page will load as expected.