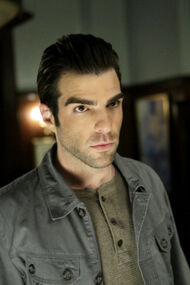 Gabriel "Sylar" Gray is a canon character, owned in World 2 by Pippy. His story is quite different to canon, but it is similar, in several ways. He chose to stop killing, and to fight his hunger, similar to how he did in the exposed future. He is married to Pippy Gray, and has eight children with her, along with having adopted Luke Accera-Gray and Hannah Deveaux. He also has twin sons from a previous relationship with Elle Bishop, but he doesn't know about their relation to him and assumes that they have a different father.
Ability
Gabriel has the ability of Intuitive Aptitude, which is a powerful and difficult ability, that contains a certain hunger that is nearly impossible to control. It's a hunger for power, which is why he killed so many. It also means he knows how things work, such as watches, which is why he was such an excellent watch-maker for so many years.
Current Acquired Abilities
Family
Father - Samson Gray
Unnamed mother
Uncle and adoptive father - Martin Gray
Aunt and adoptive mother - Virginia Gray
Wife - Pippy Gray
Brothers in law - Nathan Petrelli, Peter Petrelli, Jack Calwin, Neo Petrelli, Benjamin Linderman
Sisters in law - Lowri Petrelli, Tracy Calwin, Barbara Zimmerman-Petrelli
Adoptive children - Luke Accera-Gray, Hannah Deveaux
Adoptive grandson - Jake Deveaux
Sons - Layton Bishop, Shelton Bishop, Noah Gray, Zachary Gray, Alex Gray, Jacob Gray and Braedon Gray
Daughters - Abbie Gray, Gabriella Bennet, Zoe Gray
Sons in law - Josh Deveaux and Claude Bennet
Ad blocker interference detected!
Wikia is a free-to-use site that makes money from advertising. We have a modified experience for viewers using ad blockers

Wikia is not accessible if you've made further modifications. Remove the custom ad blocker rule(s) and the page will load as expected.