Glowing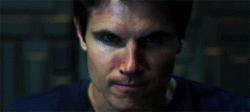 Glowing to a new location
Ability to:
travel from one location to another
Glowing is a form of time travel achieved by travelling faster than the speed of light. It can also be achieved by augmenting enhanced speed with ability manipulation.
Characters
An agent from The Organisation has this ability.
Will Herriford will have this ability naturally.
Limits
Organisation Agent
This ability enables the agent to travel from one location to another using a method he calls glowing. It is named due to the visual effect it causes when he moves location. His entire body glows in a bright white light before he disappears. The ability works by moving faster than the speed of light, which is what the agent does in order to glow from one location to the other; he however cannot move any slower when activating this ability.
Will will have the capacity to travel almost instantaneously from one place to another. He will take only a few seconds to move, and will also be able to travel through time. He will do so using an amplified form of augmented speed. He will not be able to take other people with him when he travels, and he will also not be able to move any slower using the ability unless he is negated. His entire body will glow brightly while he is running.
Similar Abilities
Ad blocker interference detected!
Wikia is a free-to-use site that makes money from advertising. We have a modified experience for viewers using ad blockers

Wikia is not accessible if you've made further modifications. Remove the custom ad blocker rule(s) and the page will load as expected.