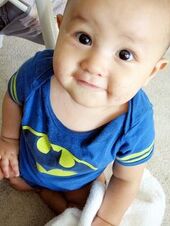 Hayate Kicharou Nakamura is a character used by 
Lowri
 in the future of 
World 11: Villains
. He will be the eldest son and second child of
Catalina
and 
Isao Nakamura
. He will possess the abilities of
Water Mimicry
and
Translation
.
Appearance
Abilities

Hayate's first ability will be
Water Mimicry
. The ability will allow him to transform his body into water, both by conscious choice and reflexively when threatened. He could travel in his watery form and could also reform from water. The ability will keep him alive in dangerous situations like being run over by a car or being attacked, since whenever this happens, his body will automatically turn to water, and will reform with no injury left behind. The only way this could be prevented from occurring is if he was negated at the time.

His second ability will be
Translation
. When this ability is activated, anything Hayate says will be automatically translated into a listener's first language within that person's mind. It will not occur if the ability is not consciously activated. If there are several listeners, the translation will happen to each of them, even if they all speak different languages. However, it will only work for spoken words, not writing.
Family & Relationships
History & Future
Etymology
Hayate is a Japanese name which means "sudden sound of the wind". His middle name, Kichirou, means "good luck son". The surname of Nakamura is again Japanese and means "in a village" or "middle village".
Ad blocker interference detected!
Wikia is a free-to-use site that makes money from advertising. We have a modified experience for viewers using ad blockers

Wikia is not accessible if you've made further modifications. Remove the custom ad blocker rule(s) and the page will load as expected.