Anthony Sanders is a minor character used by
Lowri
in
World 1: Redemption Vs Revenge
. He has the ability of
teleportation
, and was a member of
a villainous group
formed originally to combat ex-agents who'd returned to their work of persecuting evolved humans, but which eventually turned to revenge. He is in his mid-forties.
Appearance
Sanders has sandy blonde hair and light blue eyes. He is average height, but is powerfully built.
Ability
Sanders has the ability to
teleport
, travelling instantly from one location to another. It was seen that he could easily travel any distance within Northern America. He could have been able to travel further but this was not shown. When he teleported, he simply vanished and reappeared, without any light or glow. He would need to focus on either a place name or a memory of the place in order to teleport there.
Family
Sisters - Fiona Sanders, Kelly Brook
Brother in law - James Brook
Nieces - Molly Sanders, Lucy Brook, Aimee Brook
Nephew - Luke Brook
History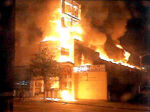 Sanders was captured and imprisoned within Building 26 during the first arc of this world, along with one of his sisters. When the operation was ceased, both of them were released, unharmed, and returned to their families. However, their names were on record and the family were some of the targets
Leit
remembered when he returned to the work. He and his group raided the family. Several were captured and a fight broke out, and Sanders' brother in law was killed. After this, Sanders was recruited by
Jasper Ellis
to fight and seek revenge against
Leit
. Sanders died when
his niece
changed sides and burned the group to death in their base. However, he was later revived, and is now a captive of
the New Company
.
Etymology
Sanders' first name is a Latin name. His surname, and the name by which he is referred, Sanders, is a Greek name which means "defending men". This could be a reference to how he mistakenly believed that his actions would protect and defend other evolved humans.
Ad blocker interference detected!
Wikia is a free-to-use site that makes money from advertising. We have a modified experience for viewers using ad blockers

Wikia is not accessible if you've made further modifications. Remove the custom ad blocker rule(s) and the page will load as expected.