Voice Mimicry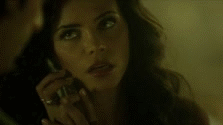 Impersonating another over the phone
Ability to:
copy the voices of others perfectly
Character(s):
Chris Kipling
Voice mimicry is the ability to mimic the voices others accurately.
Characters
Chris Kipling has this ability naturally.
Karina Petrelli will also have this ability naturally.
Hashrad Patel has this ability naturally.
Limits
This ability can be used to perfectly mimic any voice, once it has been heard. Therefore, it could be used to impersonate another in circumstances where only the voice is needed, e.g. when using voice recognition technology, or when speaking over the phone. However, it cannot manipulate voices in any other way, and it can only affect the one's own voice, not the voices of others. It cannot enable others to mimic voices.
Similar Abilities
Ad blocker interference detected!
Wikia is a free-to-use site that makes money from advertising. We have a modified experience for viewers using ad blockers

Wikia is not accessible if you've made further modifications. Remove the custom ad blocker rule(s) and the page will load as expected.